"Knudson Manufacturing Presents the KFS-35C and the KR-18 Black at Metalcon 2017."
When you find your passion, you want to share it with the world. At Metalcon 2017 in Las Vegas, Nevada, our team at Knudson Manufacturing did just that. While our mission is manufacturing outstanding machines customized to our customers' preferences, our passion is so much more than just the products we offer. By meeting those who stopped by our booth and met with our team, the entire vision of the company was realized: Creating loyalty to you, our customers.
We at Knudson view our customers as our most valuable people; to be earnestly treated with respect, integrity, and exceptional service. At Metalcon, we cherished seeing faces of people we have recognized for decades who came by to see us. It was humbling to hear of their loyalty to our business at Knudson Manufacturing because they have put so many of our products to use over the years and have created realities from their own dreams.
Gary Knudson, who started it all, is still interacting with his customers and thoroughly enjoyed seeing old faces and meeting new ones at Metalcon. He is now revisiting his own dream of a product that will reach many different markets: a new free-standing building system. The concepts for Gary's building system are in various stages of the U.S. Patenting process. A few months to work through the "kinks" will be required, with the hope of creating the first of these buildings to be erected right here at Knudson Manufacturing in the state of Colorado, USA (projected for the spring of 2018). "It can go up very rapidly from a kit and although it can be site-fabricated, the preferred way with this system is that much of the work will be done in-plant before it is shipped to the customer" Gary states. "The new basically straight-wall system will be finished both inside and outside, and pre-insulated as erected. A typical building can be erected in just a couple of days."
What can our new free-standing building systems be used for?
Schools
Hospitals
Churches
Small Businesses
Commercial Buildings
Shopping Malls
Aircraft Hangars
Military Barracks
Military Materiel Storage & Supply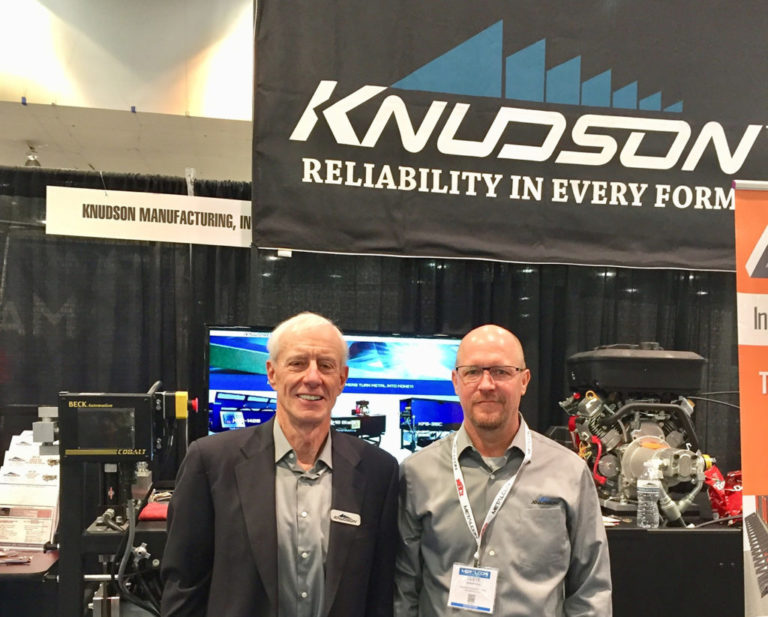 "Gary Knudson and Clete Zakrzewski Welcome New and Old Customers to Metalcon 2017."
Clete Zakrzewski, Plant Manager, has been loyal to Knudson Manufacturing for 17 years and served as our primary representative at the trade show. "Overall it was a wonderful show and we had a good clientele base. Our customer response is highly favorable and there is a substantial increase in the movement of interest", he remarks. When asked about hot market trends, Clete stated there are multiple concerns about previously used wood framing, including rot, mold, swelling, shrinking, and cracking. "Steel is much straighter, non-combustible, termite-resistant, weather tight, and more secure than wood", he remarked.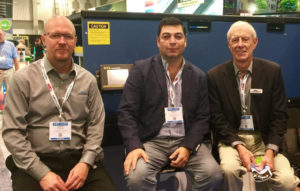 Clete Zakrzewski, Mario Fierro, and Gary Knudson Review Market Trends in Latin and Caribbean American Countries at Metalcon 2017."
Our loyal Distributor, Mario Fierro of FierroMetals in the state of Arizona, USA, also presented with us at Metalcon to serve the Latin American and Caribbean countries with representatives at the trade show. Mario commented that many customers in Latin American and Caribbean markets respect Gary's designs, quality, and support. "It's an honor for them to meet Gary Knudson and shake hands with him", Mario comments. Mr. Fierro is currently working on presenting to the Mexican government, which has substantial influence over building projects, to promote the Knudson framing system technology. "The goal is to increase safety in the buildings in this part of the world", Mario states. "We want to encourage the government to make schools, hospitals, houses, and commercial buildings that can withstand the earthquakes traditionally-built concrete and adobe buildings could not tolerate".
At Metalcon this year, our company felt a surge of excitement about developing new products that can be used world-wide to fit a variety of needs and interests. "2018 will be exploding with expansion of ideas and options for our customers everywhere", Gary exclaims. Knudson Manufacturing will be anywhere globally possible to serve to those in need of safe, secure land development. "We can't wait to watch our expansion grow and grow", exclaims Erin Knudson, Manager of Marketing and Communications at her father Gary's company. "We have the genius (Gary, our owner and chief innovator), the experts (Clete the Plant Manager and Bill, our Engineer), and the team (Operations, Manufacturing and Assembly) needed to make an impact on the world, so we are all set to make a difference. All we need now is to start turning our wheels and then share what we have with our esteemed customers."